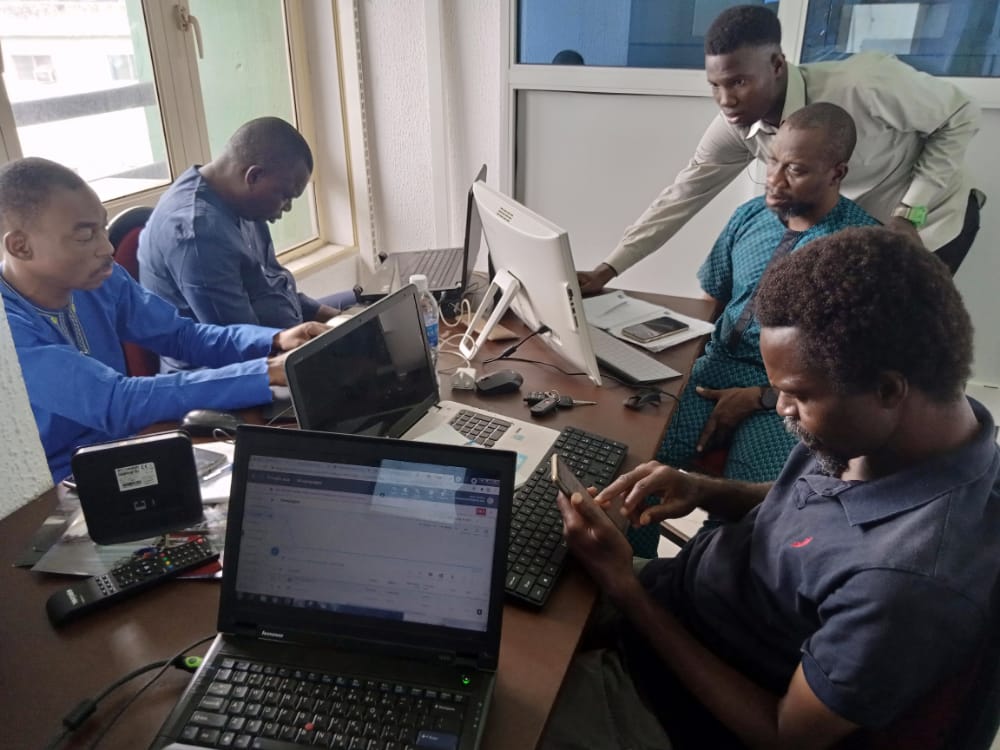 DIGISALE SOLUTION: THE BEST DIGITAL MARKETING TRAINING INSTITUTE IN LAGOS.
Fact is, regarding Digital Marketing, there are training institutes and there are training institutes. But when Digital Marketing Training is down to the entire city of Lagos, in Nigeria, one company stands out as one of the best in the industry.
And the name of that company is DIGISALE SOLUTION.
Training to become a digital marketer in 2021 is one the most in demand skills and job requirement for the 21st Century. This is because, almost all businesses are currently going online and they need people with the right Digital Marketing skillsets to help them maintain and manage their online presence.
But, the painful reality is, not every Digital Marketing Training Institute in  Lagos, "knows their onion".
So, the million dollar question is: what brand is this DigiSale Solution Company mentioned earlier and what do they do?
This post will walk you through everything you need to know about DigiSale Solution, plus even show you how you can register to take a course with the company.
So, without further ado, let's dive into it.
DigiSale Solution is an internationally-recognized Digital Marketing Training Institute headquartered in Alausa, in the heart of Lagos, Nigeria and an annex office in Houston Texas, USA. In addition, the company boasts of the presence of a Dubai trained Digital Marketing Chief Executive Officer who sits atop its Management Board.
DigiSale Solution we prides itself as the best-in-class Digital Marketing Training Institute, in Lagos, with an illustrious track record of having successfully trained over 4870 students in both in Nigeria and overseas.
It is commonplace knowledge that DigiSale Solution have done and are still doing a great job as Digital Marketing Institute, because all their alumni have gone ahead to start producing amazing financial results from the skills they impacted in them, either through switching over to high-paying digital careers, starting their own digital marketing agencies or putting those skills to use in the existing businesses to boost sales and increase their revenue.
List of High-Ticket Skills Digisale Solution Teaches.
Among other high-ticket skills that DigiSale Solution teaches their trainees  which distinguishes them from the chasing pack are but not limited to those listed below:
Now, the amazing part which even further distinguishes DigiSale Solution as the number one Lagos' Digital Marketing Training Agency, is that they have exceptionally integrated DROPSHIPPING/ECOMMERCE module into our course outline.
Dropshipping, -(direct) for people who don't exactly know what it is, is a type of business model that allows one to import hot and fast-selling products from USA and China at very low price and sell them here in Nigeria with very high –(up to 800%) profit margin. 
To learn more about dropshipping and how you can sign to our training on it, kindly click here: https://digisalesolution.com/dropshipping/
And guess what? No single other Digital Marketing Training Institute, not only in the entire city of Lagos, but the whole of Nigeria, teaches dropshipping as a module of their digital marketing course.
Again, if you happen to take a visit to the DigiSale Solution office, one thing their staff confidently say to you that they know that dropshipping/ecommerce business model produces profit like talisman.
Why? Because, not only have they used it to turn around the financial fortunes of thousands of their currents students and alumni, but also they practice what preach. Which means DigiSale Solution is a fully recognized Lagos-based company dropshipping products from China and USA.
Some Additional Services DigiSale Solution Offers to Trainees
One of the things that's uniquely awesome about DigiSale Solution Digital Marketing Training Institute is that they have gone the extra mile of embedding what they call Business Development Advice–(BDA) as a course module into their training.
The CEO of the Digital Marketing Training Institute argues that they came up with this amazing idea because they understand from experience in the industry that there's a business angle to every skill they coach their trainees on. And the truth really is, not everyone who excelled in class during a digital marketing training class can actually go ahead and translate those skillsets/knowledge into MONEY and make WEATH out them.
Hence, the reason they set up online businesses for majority of their trainees right from their 3rd class to enables them begin making money while still learning.
Secondly, at digisale solution institute student are the best because the school has a 100 percent practical approach to their digital marketing and dropshipping trainings.
Thirdly, training happens on Saturdays from 9am to 5pm where students are given two complimentary meals and have unlimited access internet data throughout the period of the training. While, the Digital Marketing Course lasts for 6 weekends, the Dropshipping Course takes 4 weekends to complete. And the online remote version takes an average of two months to complete.
Fourth, Digisale solution doesn't just leave graduands of its institute to either "swim or sink in the sea of digital marketing" after each class. As it training doesn't end on those Saturdays, but continues in the form of project works, assignments and supports-(either remote or one-on-one basis) every Tuesdays and Thursdays.
In fact, the institute has both a 3 and 6 months after graduation support system, which allows it's alumni to come back and ask for help in various areas they might need help.
In addition, digisale solution also does have a flexible payment plan which enables individuals of different income categories the opportunity to able to register for their trainings.
Couple with the fact, that after graduation, the company helps link and connect some of their alumni with international job offers, which DigiSale Solution has access privileged access to.
So in wrapping up this post, if you are currently searching for a digital marketing training institute in Lagos that will give the maximum value for your hard earned money, then look no further. As DigiSale Solution is your most assured go-to institute.
To learn more about how you can reach us at DigiSale Solution, and sign up for one our upcoming batch of training, kindly visit:
www.digisalesolution.com/rapidsale
And to hear what people are saying about us, kindly check out the link below: