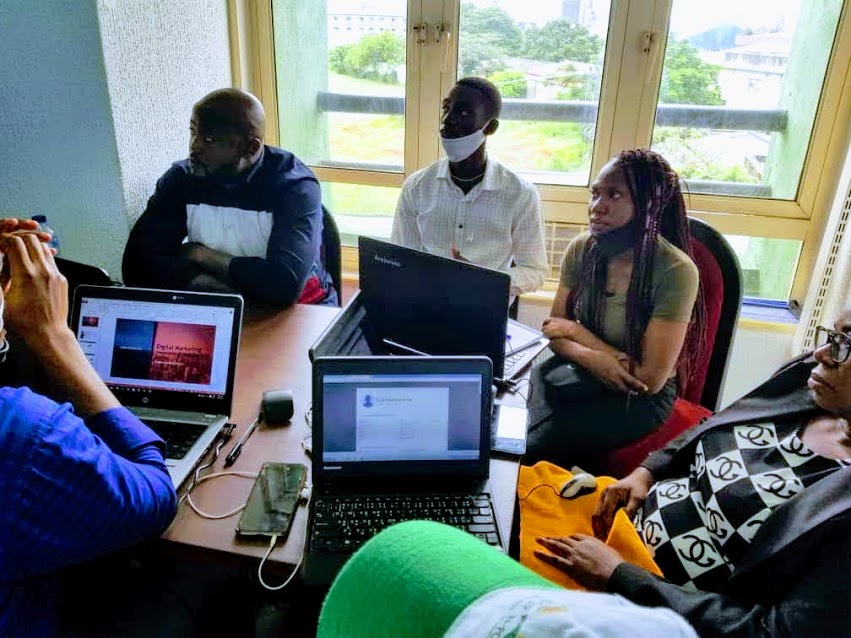 A company that started with just a laptop and in a sitting room after founder returned from overseas. His desire to replicate what he did and saw outside the shores of Nigeria led to the starting of the company. He was able to grow from only a small living room into having offices in Lagos, Abuja and Florida in the United State of America, selling educational training materials and helping businesses thrive with his world-class business model through digital Marketing.
Digi Sale Solution is a Digital Marketing Institute, Multimedia Company and Business Development Company directed by founder. The organization is renowned for her advanced digital marketing training courses and conventional Sales and Marketing Courses training hundreds of people monthly and consulting and offering digital marketing and business development services for Businesses and setting up specific business models for businesses in and outside Nigeria.
It teaches from it's module Digital Marketing Courses that drives sales into businesses such as social media management, Website development, Sales funnel and Lead generation,Email Marketing, CRM Management Systems,Digital Marketing agency, Search Engine Optimization, and Conventional Sales Courses such as understanding CRM systems, Niche Marketing,Writing Business proposals, Drafting Business Plan, Marketing Funnels for organizations, various affiliates program and methods to make money online for individuals and lots more.
founder is a reputable sales strategist and specialist that has helped built Growing businesses and blue chip coporations in and outside Nigeria through Digital Marketing Tools.He is renowned for turning over 7 figures for Coporations in months with his sales and business development model. He is a graduate of Zabeel International Institute of Management and Technology Dubai, an international Management Institution and one of the topmost educational provider in Dubai.He is an investor into several chain of business and chairs several companies.
founder also runs an Inspirational and Spiritual Organization where he inspires people to live live fulfilling their potentials as part of a the operations of love n Life is home for the elderly, vulnerable, and reaching out to vulnerable young people with various needs, helping the lead better lives. If he is not about helping businesses grow, organizing inspirational and business conferences he will be in his closet meditating and learning more about life
This is it! Our ultimate goal is to help and empower 20,000 people and 10,000 businesses by 2030 to start, grow and scale wildly profitable business and career using digital marketing across the globe.
This mission is important to us, and it's one we're committed to because we sincerely believe it can drastically add a change to our world.
This is a big deal for us because what we do does not only impact positively on the people we help, but the people that work for them, their family and even their customers. Most importantly what we do creates jobs.
If we achieve this goal, we will add millions of jobs, and millions of money to the economy.
ceo / fOUNDER digisale solution